GAISF, ARISF and SportAccord President Raffaele Chiulli this week attended the opening ceremony of the WAKO World Kickboxing Championship 2021 which is being held from 15 to 24 October in Jesolo, Italy.
The beach resort on the Adriatic Sea has welcomed more than 1,600 of the world's best kickboxers from 65 countries to compete at the Palazzo del Turismo. President Chiulli had the honour of addressing the athletes at the opening ceremony. In his speech, President Chiulli praised WAKO for a celebration that brings hope and encouragement to the global sports community.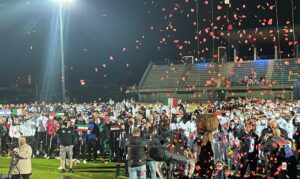 President Chiulli said:
"It was an honour to be part of the opening ceremony of this amazing event and my thanks must go to WAKO President Roy Baker for the incredible hospitality of the WAKO family.
"I would like to congratulate WAKO for organising a fantastic opening ceremony, it is a pleasure to see so many athletes returning to safe and secure events. These moments are incredibly encouraging for the global sports community and are a great sign for the future."